Sailing in 2023 !
Going on a private river cruise on a barge, whether in France or elsewhere in Europe, will make you travel differently, far from the beaten track.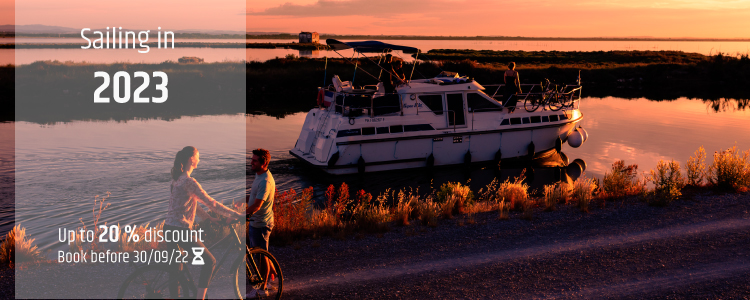 For all book­ings made before 30 Sep­tem­ber 2022, take advan­tage of our ear­ly book­ing dis­count of 10%* which can be com­bined up to 20% of
By book­ing your cruise in advance, you can be sure to get the best price !
*Non retroac­tive dis­count. Valid for a min­i­mum of one week rental from our bases in France : Canal du Midi (Car­cas­sonne, Homps, Colom­biers, Agde ou Carnon) — Bour­gogne (Digoin, Châtil­lon-en-Bazois, Mail­ly-le-Château, Bri­are, Louhans, Pon­tailler-sur-Saône) — Alsace (Lan­guim­berg — Wal­tenheim-sur-Zorn) — Char­ente (Cognac) — Bre­tagne (Redon) — Pays de la Loire (Che­nil­lé-Changé) et au départ de l'Alle­magne (Bern­burg)