Special

BLACK

FRIDAY

offer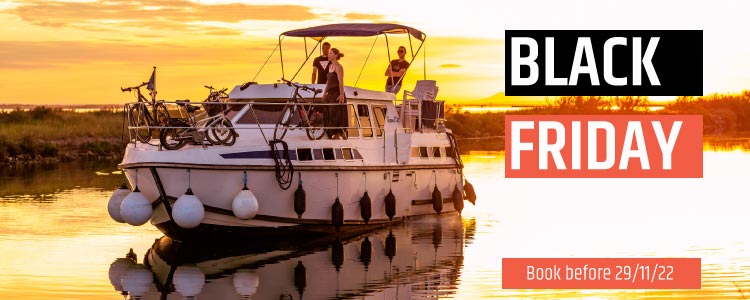 On the occa­sion of the tra­di­tion­al Black Fri­day, take advan­tage of our excep­tion­al offer !
22% dis­count* on your cruise of one week or more
12% dis­count* on your week­end or mini-week cruise
Please note that this offer is only valid until Novem­ber 29th, so don't delay !
You can book online via the fol­low­ing but­ton or con­tact our cruise advisors
by phone at +33 3.85.53.76.70 or by email at enquiries@​lescanalous.​co.​uk
*Non-retroac­tive dis­count, non-cumu­la­tive valid for a cruise in 2023 from our bases in France : Canal du Midi (Car­cas­sonne, Homps, Colom­biers, Agde or Carnon) — Bur­gundy (Digoin, Châtil­lon-en-Bazois, Mail­ly-le-Château, Bri­are, Louhans, Pon­tailler-sur-Saône) — Alsace (Lan­guim­berg — Wal­tenheim-sur-Zorn) — Char­ente (Cognac) — Brit­tany (Redon) — Pays de la Loire (Che­nil­lé-Changé) and Deutsch­land (Bern­burg).