Our license free boats
Choosing your boat
The right choice of licence-free boat is crucial to ensuring you have a great holiday. The pleasure boat you rent will be your home for the duration of your waterway cruise.
All our houseboats offer standard minimum comforts such as: pressurised hot and cold water, shower, WC, kitchen, heating. The detail and quantity of these vary from boat to boat.
We offer 7 broad fleet ranges:
Cosy
Electric
Premium
Classic
Access
Simply
One Day
important points to note before embarking on an adventure
BOAT INVENTORY
HARDWARE:
Mooring lines - Lifebuoy - Boat hook - Mooring stakes and mallet - Anchor + Mooring gear - Fenders - 10 litre bucket - Water hose - Gangplank.
SAFETY:
First Aid Kit - Logbook - Lifejackets - Fire Extinguishers - Torch (batteries not included).
HOUSEHOLD:
Ashtray - Broom - Dustpan and brush - Dish brush - Hangers - Hand brush - Toilet set - Clothes pegs - Basin - Dustbin - Mop.
TABLEWARE:
Tumblers - Table glasses - Dinner, soup and dessert plates - Bowls - Coffee cups - Platters - Salad bowl - Coffee jug + filter holder - Water jug - Cutlery and cutlery holder - Salad servers - Juicer - Teapot.
KITCHEN:
Trivet - Bread basket - Plastic boxes - Can opener - Bottle opener - Corkscrew - Vegetable knife - Carving knife - Ladle - Skimmer - Wooden spoon or spatula - Cutting board - Pans - Lids - Frying pan - Salad spinner - Pressure cooker or Dutch oven - Strainer.
LINEN:
Bolsters or pillows - Bolster or pillow case - Sheets - Blankets or duvets. (supplied on the entire fleet except the Simply range).
BOAT EQUIPMENT
12 VOLT / 220 VOLT CONVERTER
Connects to the 12-volt cigarette lighter socket (max 100 watts) to allow you to charge phones or digital devices.
Equipment for rent from some bases.
Some boats are equipped with a 220-volt shore power connector.
KITCHENS
All boats are equipped with a sink, gas hob, 1 to 4 rings.

Most boats are equipped with an oven (except for the Fred 700, Riviera 750, Linssen, New Concorde, Triton 1060 Handy, Rego 2000).

The Tarpon models have an extractor hood.

All boats are equipped with a gas or electric refrigerator ranging from 40 litres to 220 litres depending on their size. Some have a freezer compartment
WASHROOMS / TOILETS / SHOWERS
All boats have at least one washbasin. Some are equipped with washbasins in the cabins.

All boats have at least one shower. Some have several.

All boats are equipped with toilets, some have several, they are sometimes separated from the shower room.
COCKPIT
All boats have a main covered cockpit. Some models have 2 (inside - outside)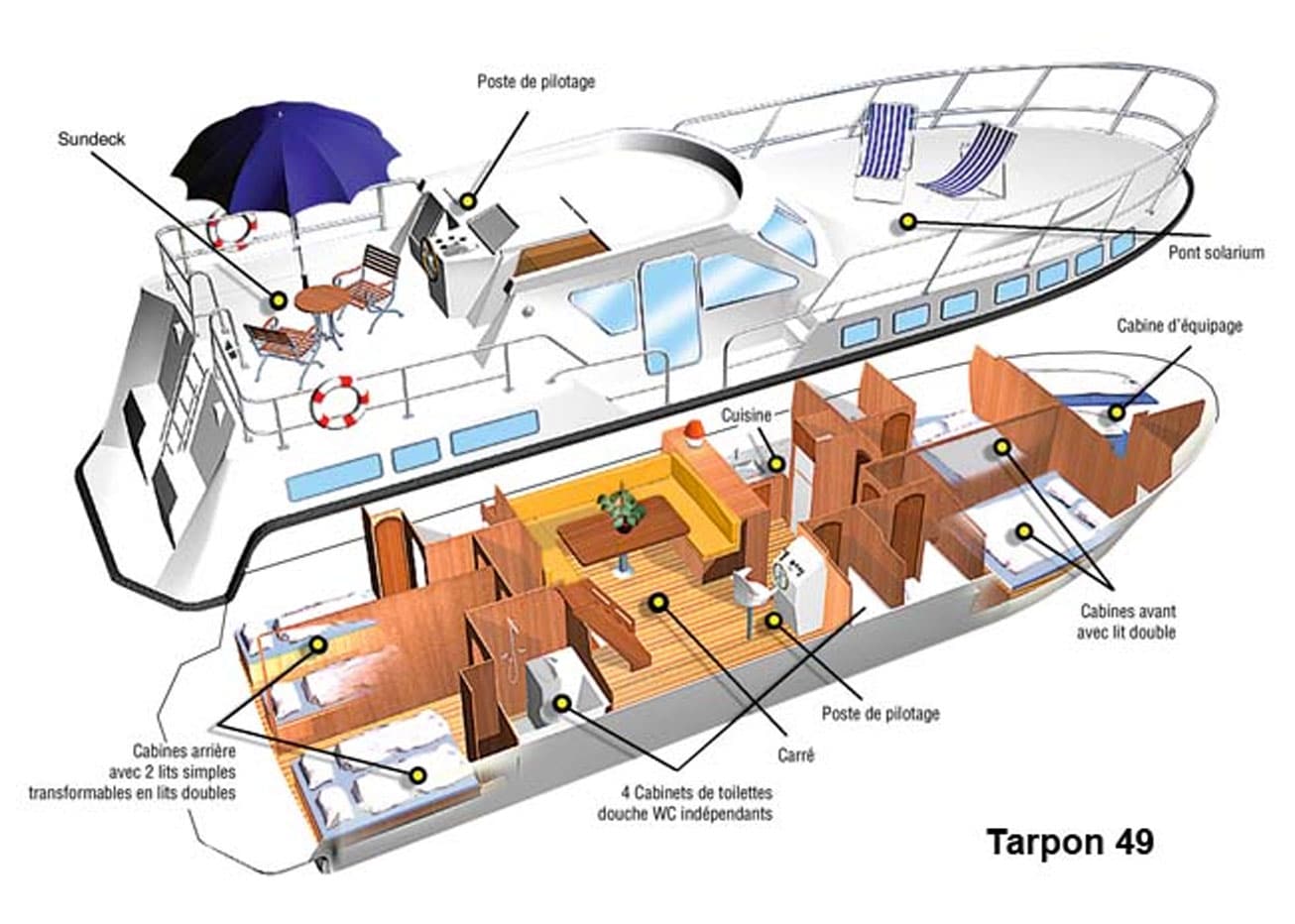 Les Canalous will take you on a water­way cruise to dis­cov­er France and Europe from its bases.
The South of France via the Canal du Midi (Car­cas­sonne, Homps, Agde, Colom­biers), Camar­gue (Carnon), Char­ente (Cognac), Lot (Cahors, Luzech).
Dis­cov­er water­way tourism depart­ing from Alsace (Hochfelden), Mayenne (Che­nil­lé-Changé), Brit­tany (Redon), Ardennes (Pont à Bar), North­ern Bur­gundy (Mail­ly-Le-Château, Châtil­lon en Bazois, Digoin) and South­ern Bur­gundy (Louhans, Pon­tailler sur Saône).
We also offer boat rental in Europe with Mara­no and Chiog­gia in Italy, Fürsten­berg in Ger­many, Woubrugge in the Nether­lands, Rybi­na in Poland.