Heritage
Heritage and culture along the water
A rich heritage to discover day by day on your licence-free boat
It was prob­a­bly the enjoy­ment of boat­ing and the promise of a relax­ing hol­i­day that attract­ed you to a water­way cruise. With a bit of organ­i­sa­tion, how­ev­er, this kind of trip is also a great way to admire the nat­ur­al and his­tor­i­cal her­itage of every region you trav­el through.
A waterway cruise : another way of embracing our regions' rich heritage
A water­way cruise will ensure you take your next hol­i­day at a dif­fer­ent pace, guar­an­tee­ing you won't miss the rich­es and trea­sures of the regions you trav­el through. At an aver­age speed of 6 km per hour, you'll enjoy a unique and often impreg­nable view of the land­scapes you cross. Whether your water­way takes you through a wood­ed area or the out­skirts of a vil­lage or abbey, you'll remain in con­trol of your sched­ule, with the pos­si­bil­i­ty of moor­ing your boat to fur­ther explore the sites that catch your eye. As you nav­i­gate the water­ways of Ardennes, you'll be able to take the time to mar­vel at Dames de Meuse, an excep­tion­al nat­ur­al site which, viewed from the deck of your house­boat, will be one of the high­lights of your cruise.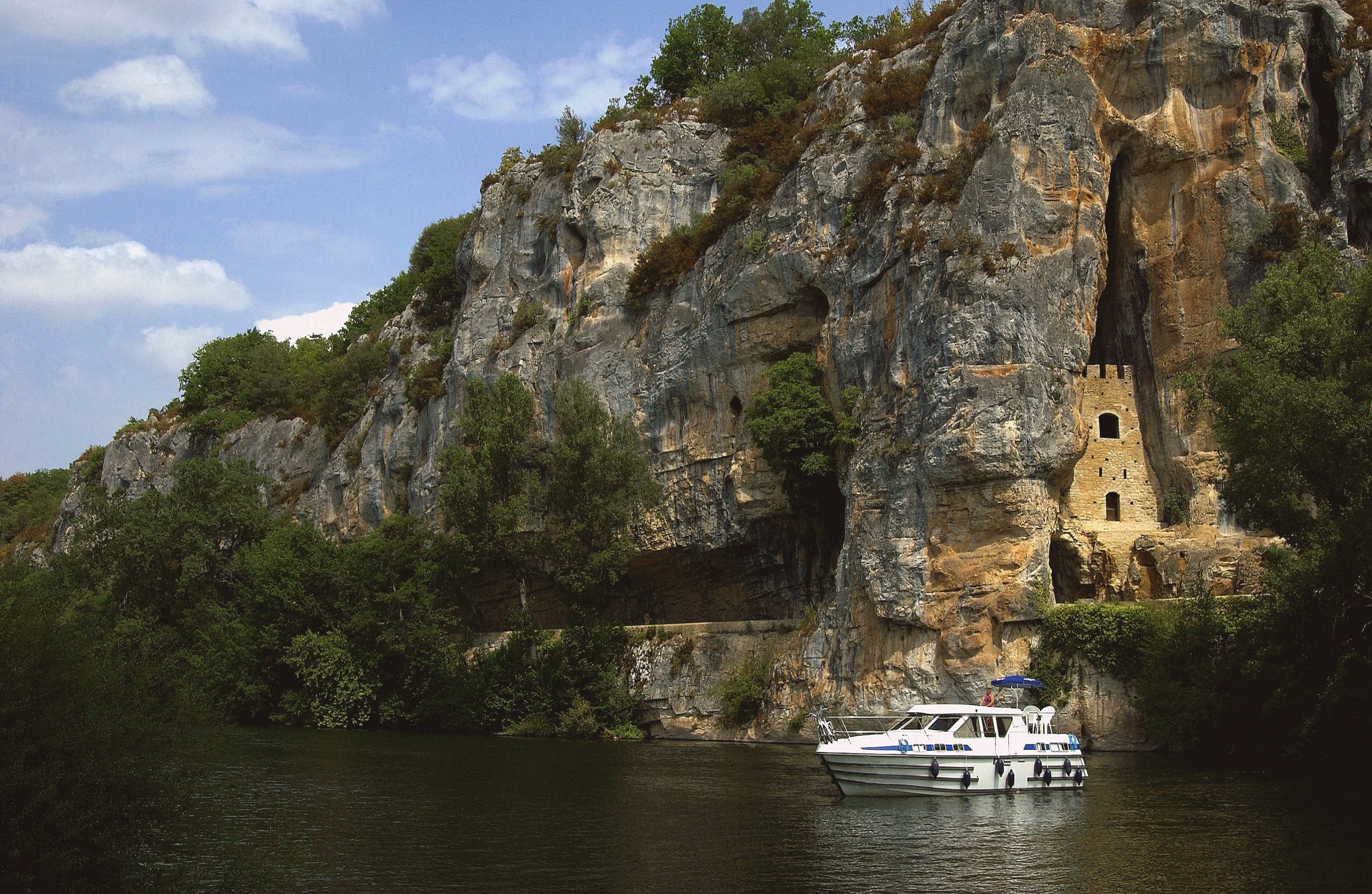 Waterways : connecting routes to get away from it all and explore as you see fit
Choose a water­way cruise to real­ly enjoy a region as you embrace all the tra­di­tions and cul­ture of every ter­roir you trav­el through. Each lock you nav­i­gate, along with being a true work of art to dis­cov­er, will pro­vide the oppor­tu­ni­ty to enjoy chat­ting to the lock keep­er or oth­er boaters. You'll also be able to ful­ly appre­ci­ate how human genius has made its mark here. The Agde Round Lock on the Canal du Midi is an excep­tion­al site to admire from all angles. In con­trast to this work of art, built on a canal clas­si­fied as a UNESCO World Her­itage site, you'll also be able to sur­prise your­self by tak­ing the famous inclined plane boat lift at Saint Louis Arzviller.
A natural or historic heritage to (re)discover from the deck of your licence-free boat
Aboard your licence-free boat, you'll be able to take in the recog­nised trea­sures of every region of France, as well as fur­ther afield. In Cahors or Angers, for exam­ple, you'll be able to head for major his­tor­i­cal sites and give your­self time to dis­cov­er and explore them. Take a walk through the pic­turesque city of Roca­madour and fall in love with its nar­row streets or give your­self a chance to get away from it all by strolling through the clois­ter of Moissac abbey.
Aboard your licence-free boat, you can get clos­er to an unknown her­itage, tak­ing in the mills for exam­ple. Willer mill will allow you to admire the know-how and bet­ter under­stand the his­to­ry of your ances­tors – a real jour­ney through time, which you can organ­ise by prepar­ing your water­way cruise itinerary.