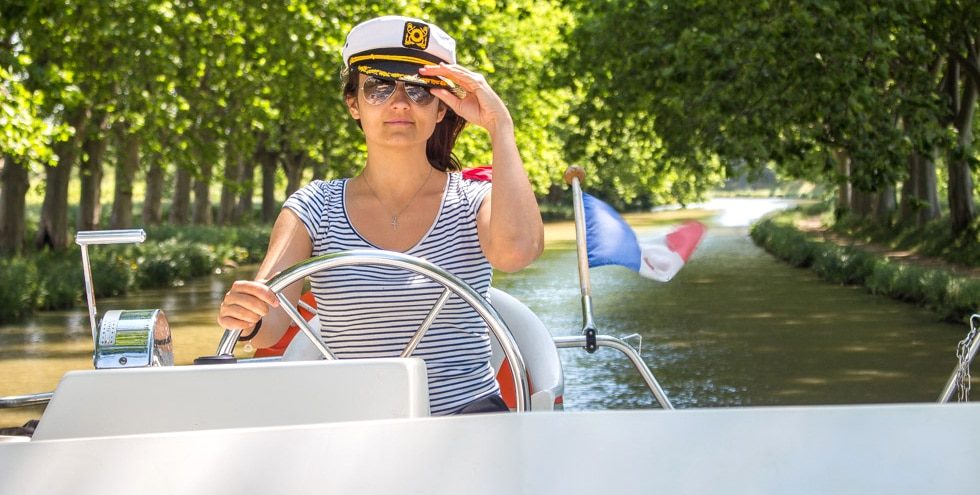 Licence-free boats on the Canal du Midi
From Homps
Choosing our Homps base will give you the opportunity to navigate one of France's most emblematic waterways. Treat yourself to a real change of scenery in the Mediterranean sun as you follow the Canal du Midi and decide upon all the sites you wish to discover during your cruise.
suggested itineraries Tested and approved
Set off from Homps and navigate as your desires see fit, or follow our itinerary ideas:
Week-end
Aller-retour
42km - 10 locks
6h
Homps > Le Somail > Homps
Aller-simple
40km - 13 locks
8h
Homps > Carcassonne
Mini-week
Aller-retour
80km - 26 locks
16h
Homps > Carcassonne > Homps
Aller-retour
122km - 8 locks
21h
Homps > Béziers > Homps
Aller-simple
86km - 17 locks
15h
Homps > Agde
One week
Aller-retour
192km - 36 locks
30h
Homps > Marseillan > Homps
Aller-retour
128km - 36 locks
32h
Homps > Bram > Homps
Aller-retour
70km - 28 locks
25h
Homps > Narbonne > Capestang > Homps
Aller-simple
143km - 17 locks
27h
Homps > Carnon
Two weeks
Aller-retour
280km - 94 locks
60h
Homps > Toulouse > Homps
Aller-simple
271km - 53 locks
60h
Homps > Bram > Homps > Carnon
Peace and wonder top the agenda for a waterway cruise from Homps
While you're wait­ing to pick up your licence-free boat and fol­low our train­ing ses­sion on how to steer it, vis­it the charm­ing vil­lage of Homps. It lies at the heart of the Min­er­vois wine region and is full of trea­sures, such as Saint Amand church, the con­struc­tion of which began in the 12th cen­tu­ry. As you stroll through the vil­lage, you'll dis­cov­er ruins attest­ing to the pres­ence of the Hos­pi­tallers of Saint John of Jerusalem in the region. Before embark­ing on your house­boat, you can also enjoy a refresh­ing break by head­ing to the nau­ti­cal base on Jouar­res lake.
You'll then be able to take to the water and expe­ri­ence the joys of water­way tourism. You'll nav­i­gate the Canal du Midi, a work of human genius by Baron Riquet. This canal, which fea­tures on the UNESCO World Her­itage list, takes in breath-tak­ing and unique land­scapes and you trav­el through a diverse range of ter­roirs.
From the locks to the emblematic sites of the south, an unforgettable cruise awaits
You'll mar­vel at the var­i­ous locks you trav­el through dur­ing your trip. Whether man­u­al or auto­mat­ic, they're very much part of the charm of water­way tourism, and every lock on the Canal du Midi is a ver­i­ta­ble work of art to be explored. Fol­low your house­boat along the tow­paths on foot or by bike or moor up and make the most of your cruise to dis­cov­er the region's emblem­at­ic sites. The town of Agde, with its round lock, is an absolute must, along with the medieval city of Car­cas­sonne, with its series of for­ti­fi­ca­tions that are one-of-a-kind in Europe. You'll also enjoy vis­it­ing the many local mar­kets in the vil­lages or get­ting lost in the vine­yards and orchards that are so numer­ous in the south of France. And if you have more time, don't hes­i­tate to head for the 'Pink City'. The jour­ney to Toulouse will prove enchant­i­ng, tak­ing you through unique land­scapes.
discover the region with our photos
let yourself be tempted by our other departure points